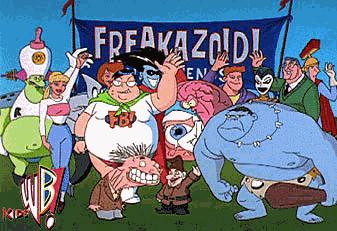 Freakazoid and Friends
This site is officially closed, but I will keep it up so fellow F! fans can find some pictures and faworks of their favorite characters.
---
The fan-club section of this page has moved, it is now located here. Sorry for having to stop taking names myself, but I don't have much time for maintaining. :( Thanks Joe for helping me out!
---
If you'd like to write to the Cartoon Network to say you want them to continue airing the show, please visit the D.E.X.T.E.R. to find the address of where you can write.
Welcome to my happy little Freakazoid site, "Freakazoid and Friends." By the way, site name is taken from the song, "Freakazoid and Friends" (whadda know!) from the first episode. The lyrics to it are located here. There are a few things you can do while you're here. You can:
---
Neato torpedo! Other Freakazoid sites:
---
If you'd like, you can also stop by one of my homepages.
---
Thanks to everyone who contributed to this site.
---
Take a minute and Sign My Guestbook

Or, you can also View My Guestbook
---


[ The Freakazoid Web Ring | Previous | Random | List sites | Skip | Next site ]
This Freakazoid Web Ring is owned by Laurie LeBlanc

Member of the Cartoon Linkexchange




---
Disclaimer: Freakazoid! is copyright Warner Bros. All the images are used without permission. Please do not abuse this page, I didn't have the permission to make it.